See how the gardens grow!
Click Here

for featured fresh produce recipes
growing schedule for the season, and Fun Produce Facts!
Gardener Lorraine McCune has taken two plots with Brielle, her granddaughter. Traveling to St. Michaels from New Brunswick, Lorraine is returning to gardening after many years. Her gardens are producing lettuce, squash, and flowers.
Why Community Gardens Now
D&R Greenway this year launched its new Community Victory Gardens at St. Michaels Farm Preserve in response to the global health crisis. The Victory Gardens have been thought about since the 415-acre Hopewell preserve was created in 2010.
Victory Gardens got their start in WWI.  In 1917 before the US entered the war, Charles Lathrop Pack initiated the Victory Garden effort to "sow the seeds of Victory" and grow food to send to US allies. Once we were involved in the War, War Gardens, soon to be termed Victory Gardens, were touted in US patriotic propaganda efforts. The idea was to boost morale, much like today, and provide supplementation to a rationed food supply as commercial crops were diverted to feeding the soldiers. When WWII broke out, the idea was revived and proved to be very popular.
Local farmers approached Linda Mead, President & CEO of D&R Greenway, about creating the gardens.
Local volunteers tend to the six designated St. Michaels Farm Sharing Garden plots which pay it forward by celebrating the bounty of the land with local donations of healthy produce.
"A few of us were talking earlier this year about how the time had come for a community garden," farm manager Bill Flemer said. "With the pandemic keeping people at home, seeking healthy ways to eat and a need for 'community,' local organic farmers Bob and Steffi Harris and I approached Linda Mead about our idea."
"We are all hungry for a sense of belonging, being outdoors and living healthy right now," Linda said. "These times hearken back to the Great Depression, when victory gardens provided important sustenance for those who lost jobs or were on limited income, strapped for food. I especially liked the suggestion to include 'Sharing Gardens' where gardeners donate plants, time and harvest to support those in need."
The St. Michaels Farm Sharing Garden began growing produce to help provide nearby residents with healthy food options and support struggling residents in need.  Aunt Chubby's Luncheonette in Hopewell Borough will oversee distribution of the produce to local families in need.
The 32 plots are spaced far apart to enable people to safely garden with social distance, while still enjoying the fellowship of gardening together.
The gardens and their produce can be a source of food during times of economic uncertainty, but planting and caring for the gardens also offer gardeners a chance to become more self-sufficient and be outside during a time when social distancing is encouraged.
"A silver lining of the pandemic is that people are re-thinking their relationship with food and food sources.  D&R Greenway hopes that we'll see a long-term trend toward eating organic and locally grown food that is better for our health and the environment."  The words 'Sharing and Community' are central to this project. We see new friendships forming, and we have begun to organize virtual social activities to foster connection. Building community around outdoor activity and healthy food is an important antidote for these challenging times."  – Linda Mead, D&R Greenway President & CEO
The site of D&R Greenway's new St. Michaels Farm Sharing Garden once served as a farm to provide food for children who lived at the St. Michaels Orphanage that stood there through World War I and World War II.
The preserve is open to the public for visits while remembering to keep to social distancing guidelines.
Although all plots are claimed for 2021, the general public is welcomed to  see the progress from outside the large fenced area that protects against deer at St. Michaels Farm Preserve off Hopewell-Princeton Rd. in Hopewell.  Let Deb Kilmer know if you'd like to be put on the waiting list for 2022 at
dkilmer@drgreenway.org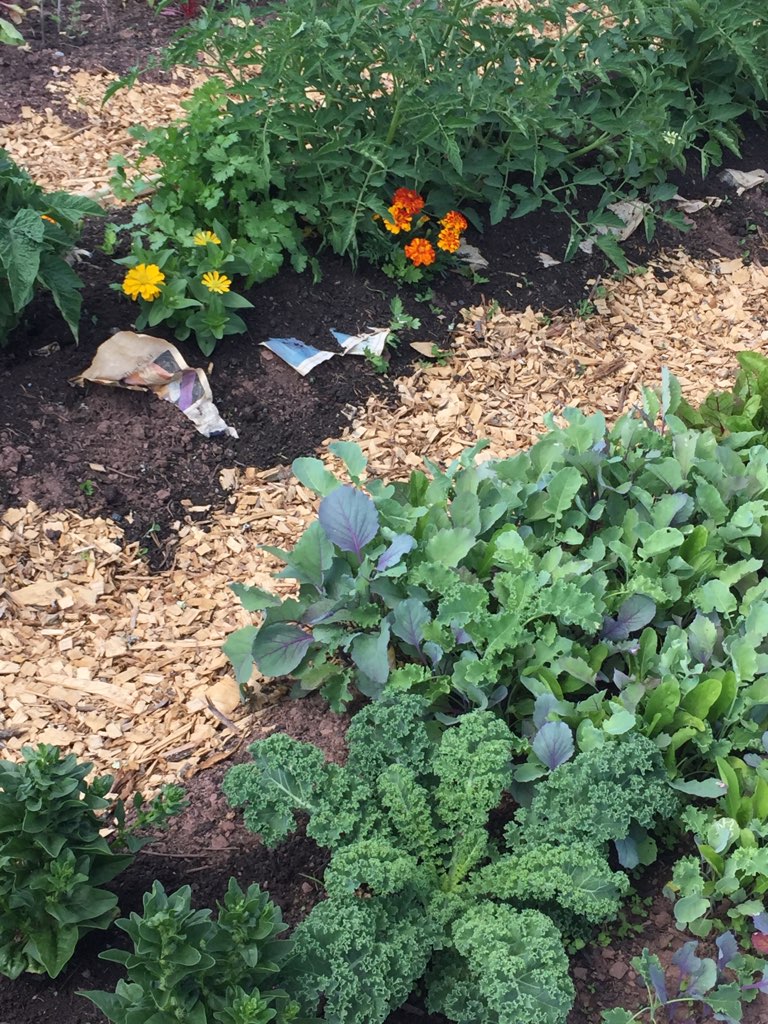 This gardener is using wood chips and old newspapers for weed control.